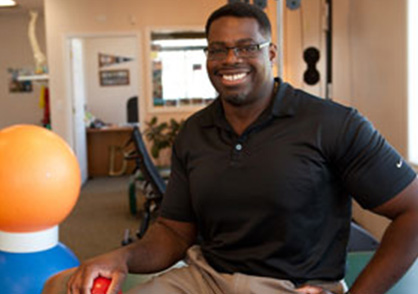 Physical health and fitness have long been a passion for Robert Berkley, P.T.. After serving in the military repairing machinary, Robert decided to pair his love of exercise with his desire to fix things that are broken. He received a B.S. in physical therapy from Daemen College and went to work as a physical therapist for Oswego Health where he was quickly promoted to clinical manager. Robert left Oswego Health to open his own private practice, Robert Berkley Physical Therapy, P.C., in July 2005.  In August of 2019, Robert received his Doctorate in Physical Therapy at Utica College.
During his time in Oswego, Robert has been very involved in giving back to the community. He has worked as an adjunct professor at SUNY Oswego, taught courses to trainers at the Oswego YMCA, and at one time offered a program to YMCA patrons entitled "Ask the Trainer" where they could ask questions about their personal workout habits free of charge. Robert has worked with SUNY Oswego's athletes and the Oswego Admirals Junior A Hockey Club. Robert enjoys working out and achieving physical goals and loves to help others do the same.
Robert's main goal as a physical therapist is to help his patients enjoy an active or improved lifestyle. For Robert, a large part of achieving this goal is to continue his education in order to learn new or improved treatments. Some of his training includes Kinesio Taping, Myofascial Release, and McKenzie Spine Therapy. Robert is also trained in lymphedema therapy and is the only Lymphology Association of North America (LANA) Certified therapist in Oswego County. While able to skillfully administer traditional physical therapy approaches, Robert is also willing to branch out and seek new treatments in order to better serve an ever-expanding range of patients.